Whether it's from natural wear, scratches, rock chips, or collision, your vehicle probably just doesn't look like it used to. Let us give your ride a fresh look with one of the best paint systems in the world – Cromax® ChromaBase® and ChromaPremier® basecoats & clear coats from Axalta® (formerly from DuPont).
---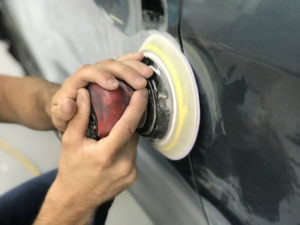 Repainting is a multi-step process. All attached parts must be removed from the panel. Next, the panel will be sanded to the correct smoothness and the paint around the repaired area will be feather edged to reduce the thickness of the finish at the edge of the damage.
---
---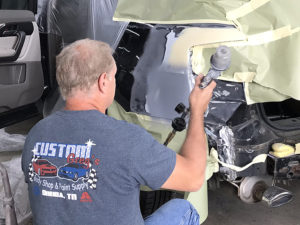 After sanding, the surface is cleaned of debris and primer is applied – usually about four coats with drying time between each coat. The area is then cleaned again, and then masked and covered to protect from overspray of paint.
---
---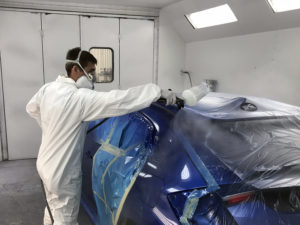 The vehicle is then moved to our downdraft paint booth. A pressurized downdraft booth provides the best and safest environment for the highest quality paint finish. Color is applied in multiple coats and finally finished off with a clear coat. As a final step, the paint is baked inside the booth at about 160 degrees for 45 minutes.