At Custom Greg's we have the highly trained technicians and up-to-date equipment necessary to do the job right. Our pledge is to restore your vehicle to as good of condition as before the accident.
---
Auto-body repair is both a science and an art. It involves many specialized skills and processes, such as replacement of damaged parts; restoring steel or aluminum to its original shape and strength; sculpting body lines and contours; matching, mixing, and applying paint to match original color and texture; and finally assembling the vehicle with thoroughness to ensure safety.
---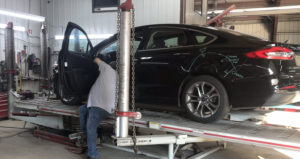 To repair the frame or structure of the vehicle, its frame is measured with gauges that are mounted at the "control points" on the vehicle. The damage is then pulled out at the opposite angle from which it was hit. This computerized system measures to within 1mm, whereas the factory tolerances for fit are 2-3mm on most vehicles.
---
---
To repair a body panel, we massage the damage back into the original shape. For areas where access to the back side is not possible, tiny studs are welded to the panel and it is pulled back to its original position. Through this process of tapping down high spots and pulling out low spots it returns to its original shape. The damaged area is them smoothed and the contour is restored but using special types of fillers to bring the surface back to the original height of the painted area. The industry standard for thickness of filler is .25 in or less. We like to see less than .125 in.
Some fenders and almost all quarter panels (the rear side panels) on a vehicle are welded to the inner structure. We use special MIG and resistance spot welders to provide factory strength and appearance of all welded panels. This ensures that welds will be strong and meet industry standards.
---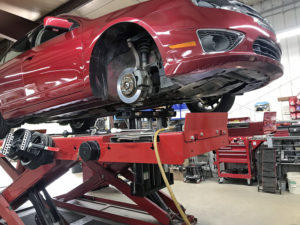 Because we do alignment and suspension work here in our mechanical shop, accuracy and turnaround time are improved. Our technicians are I-CAR certified in suspension repair and are skilled in diagnosing suspension damage. Custom Greg's also does the necessary mechanical repair in house. We are trained and equipped to diagnose and repair air bags, anti-lock brakes, air conditioning, electrical problems and more.
---
---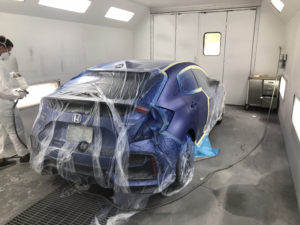 After frame and body repair, the vehicle gets repainted. This is a multi-step process. After all attached parts are removed from the panel, it has been sanded to the correct smoothness and the paint around the repaired area is feather edged. Then primer is applied – usually about four coats with drying time between each coat. The car is then masked and covered to protect from overspray before it heads to the downdraft paint booth. Color is applied in multiple coats, and finished off with a clear coat. After this the paint is baked at about 160 degrees for 45 minutes.